Description
Alex and Lauren – Launch Your Blog | INSTANTLY DOWNLOAD !
PLEASE CHECK ALL CONTENTS HERE:
Salepage_https://createandgocourses.com/p/launch-your-blog-biz
Archive: https://archive.fo/68AZS
The ultimate solution for starting and growing a blog to making over $1,000/month — without being a tech wizard or a scammy salesperson!
Our blogging career started out with a big FAT FAILURE…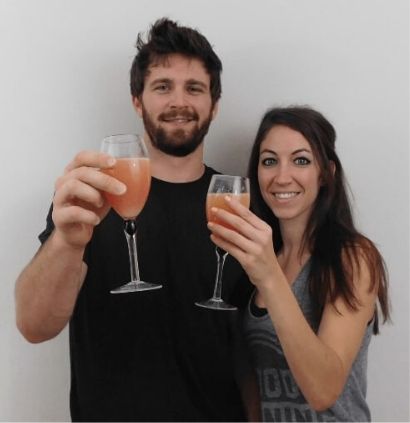 Hey, y'all! We're Alex and Lauren, and this is a photo from our first blog.
We started out no differently than probably most of you.
I, Lauren, was a CPA doing tax for an accounting firm and Alex was working full-time as a personal trainer, trading his hours for dollars.
We had big dreams of escaping the 9-5 and putting an end to limited vacation time and chasing weekends… of traveling the world before we were retired.
We started our first blog and worked nights and weekend on it — pouring our hearts into it.
The truth is that we had NO idea what we were doing when we first started, and our first blog failed — spectacularly — as a result.
It's a tough pill to swallow, but it's the truth.
Not everyone starts a blog the right way or becomes successful. In fact, the majority don't…
We were SO excited for our first blog and we had tons of ideas and energy behind it, but we never felt like we were actually going anywhere.
We felt like we we just spinning our wheels and "hoping" it would work.
The worst part: We spent a LOT of money on software and other things that we didn't need at the time.
Courses on courses. Webinars on webinars. Things other bloggers and entrepreneurs told us we that we had to have…
It's not all doom and gloom though.
It was through these experiences and initial failures that we learned how to successfully launch a blog the RIGHT way.
But… Why did the first blog really fail??
We made every mistake in the book the first time around…
1. We wasted time and money on the wrong things.
---
We spent days trying to design a logo that changed at least 5 more times in the following weeks. For a blog that ultimately failed…**face palm**
We didn't know what we should focus on or what we should ignore. This led us to waste thousands of dollars AND hours on things we didn't need!!!
2. We didn't properly learn how to use WordPress!
---
WordPress is the most powerful blogging platform out there, but we had NO idea what we were doing with it. Trying to make the simplest changes with our blog proved to be very difficult.
All we wanted was to create a beautiful blog and get our message out there. Is that too much to ask?
3. We didn't know how to easily write blog posts people loved.
---
We created the content that WE thought other people wanted to read. This led to our blog being entirely about ourselves — not our readers. We wasted hours and days writing blog posts and going over them again and again, trying to "get it right."
It was only later on that we learned how to create content people loved.
4. We didn't know how to make money.
---
We had people showing up to read our blog, but we had no idea how to connect with our audience and make money.
Making money on the internet is daunting enough when you don't know what you're doing! And we had no clue!
5. We got bad advice from wannabe "Gurus."
---
We purchased quite a few "expert blogger" courses that never seemed to work. It felt like everyone else was just "lucky" and that we just didn't have what it took.
The problem was that we were looking in the wrong places and we weren't able to find the RIGHT people to learn from. People like us. Normal people.
But we turned this first failure around with our next blog…
From failure to two grown adults jumping up and down like school children…
So we abandoned the first blog we started. It was an epic failure.
And we started a completely new blog called Avocadu.
This time we were going to take all the mistakes we made originally and do it differently.
About 4 months in of trail and error something crazy happened.
I remember it like it was yesterday.
We were trying yet another way to make money with our blog.
We had been burned so many times up to this point.
But then everything changed…
We gave a new system a try…
One we made up.
We finally decided to trust ourselves, use our failures, and try something completely new
AND WE MADE OUR FIRST $172.82 IN BLOGGING INCOME!
We finally did it! We proved that we could make some amount of money from our blog! Here are some screen shots from that month:
Amazon Associates: $85.62

Clickbank Marketplace:
$87.20

While you might not think it's much, 
that first income meant the world to us.
It was gas money. Grocery money. Money to pay for some of our blogging expenses.
After 4 months of blogging, we had made $0 and were getting discouraged.
We didn't have much help or guidance. And the help we did have was the wrong kind. We were mostly winging it based on the jumbled amount of free information (95% of which completely wasted our time) that we found online.
We didn't yet know it at the time, but this first $172.82 was shockingly life-altering. We had just figured out the first piece of the puzzle that eventually led us to becoming six-figure bloggers.
Because this is what happened next…
Our income started doubling EVERY MONTH for the next few months!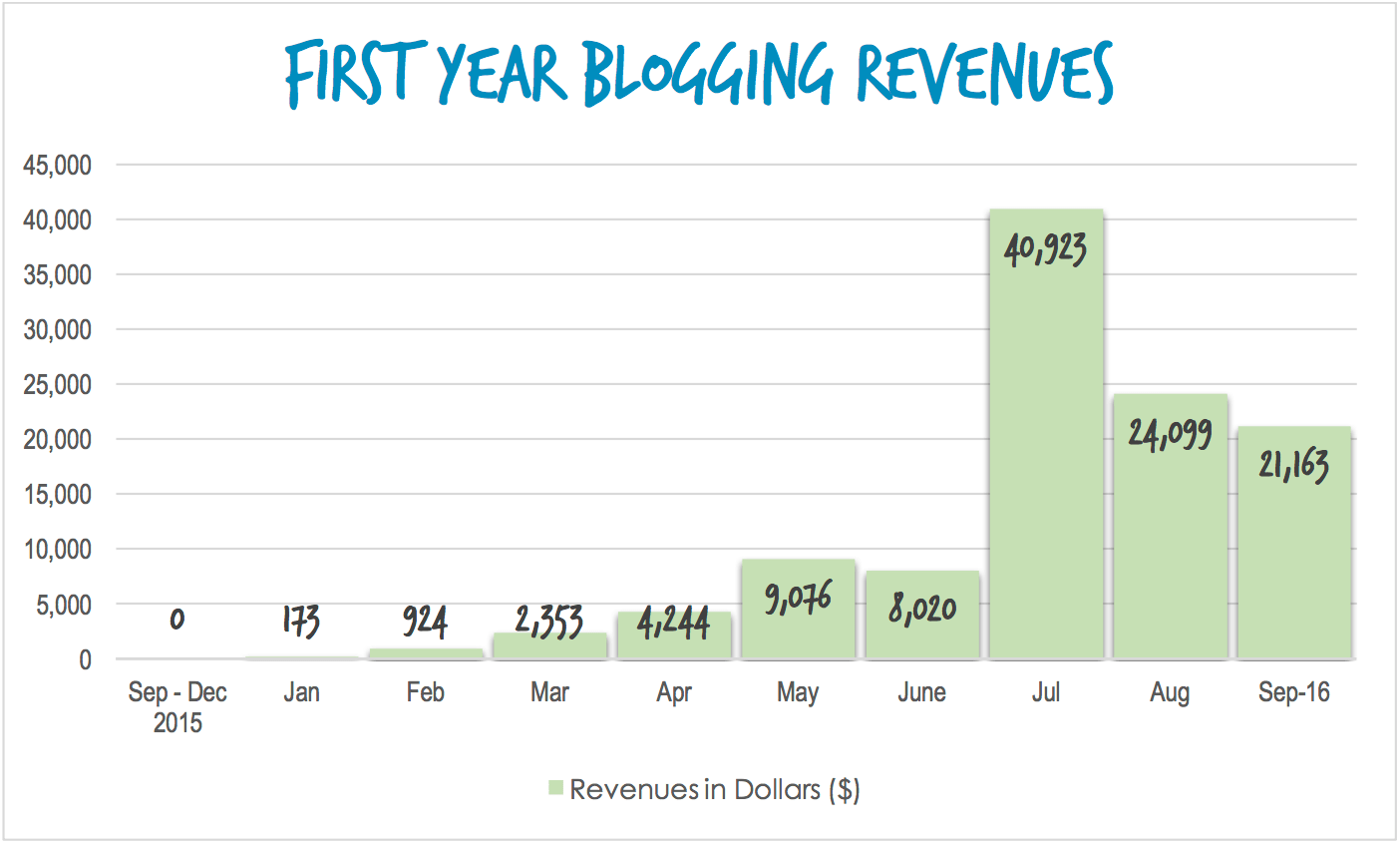 In February, we made $924 (a 525% increase!)
This was the month that we stumbled on how to use emails to sell affiliate products, and the first step to begin scaling our income.
In the following months, our income was not only increasing — but it was becoming CONSISTENT!
In March, we earned $2,353.
At this point, we would wake up every morning, hop out of bed, and run to check our email for sales.
And most days, we were making sales overnight while we were sleeping!
So, what happened?? Why was everything growing so quickly??
Well, the short answer is that we had just failure enough to make it work. We learned from all those mistakes.
And it only grew from there…
We took all the lessons we learned and built not just one but TWO successful blogs…
Our failures taught us how to launch Avocadu.com — the RIGHT way!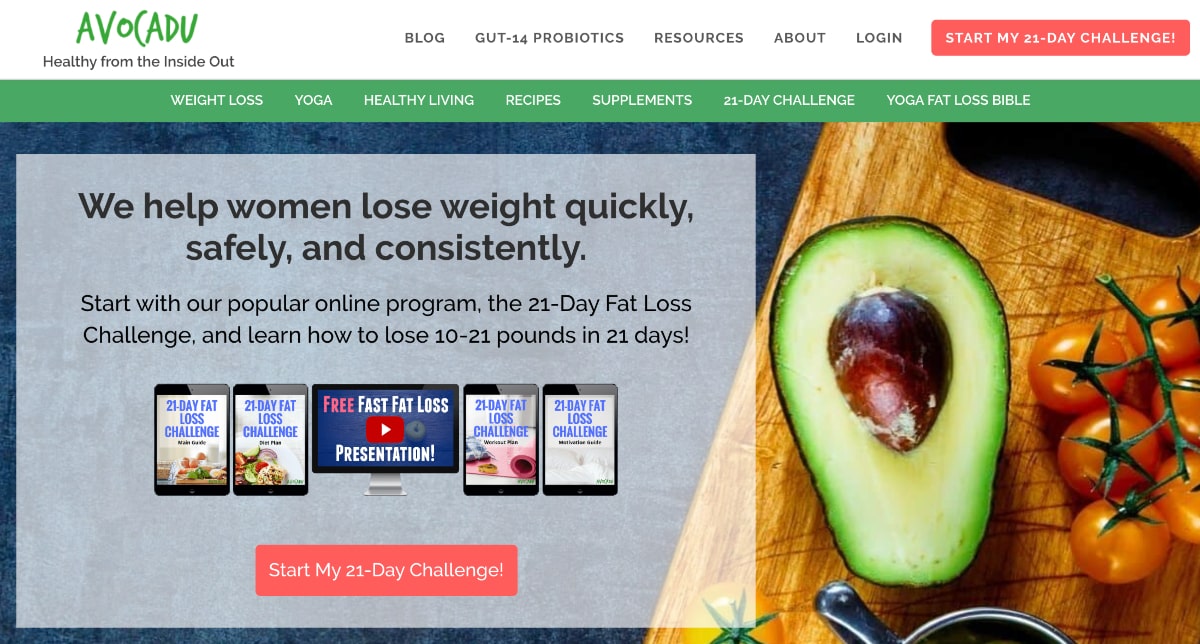 (We have tutorials that show you how to create a beautiful blog just like this!)
In the first month, we successfully launched and built our blog from scratch!
By the 3rd month, we had 300,000+ visitors and readers and had and quit our full-time jobs!
By the 6th month, we had made $17,163.98 with our blog!
By the end of the first year, we had made $103,467.98 blogging and started traveling the world!
And launched a third blog, Create and Go: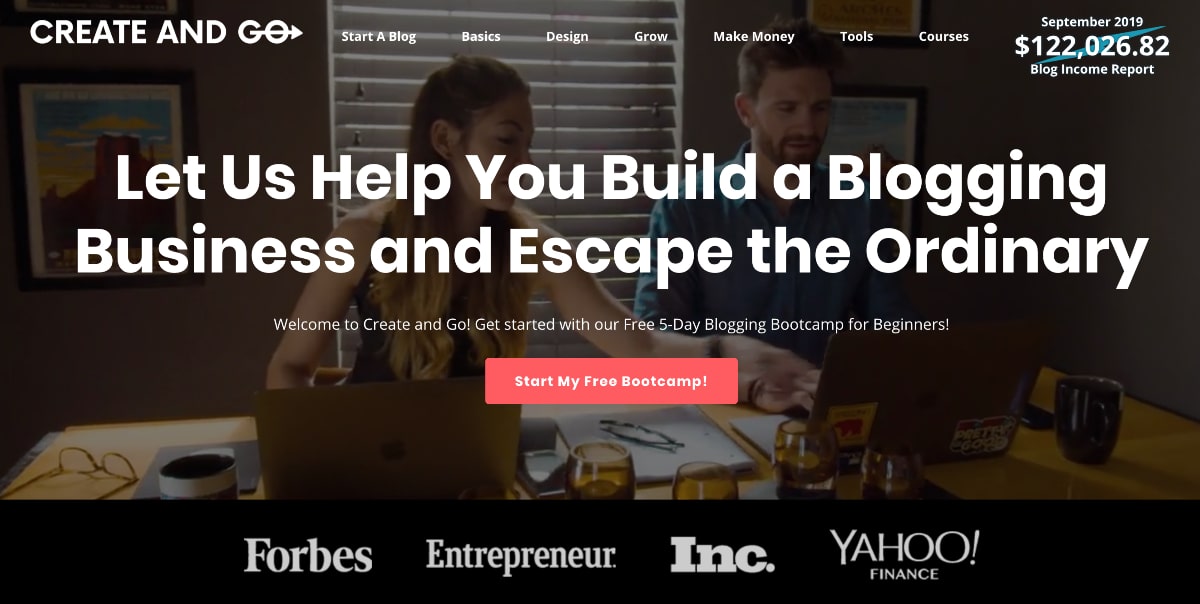 In the first month, we successfully launched and built our blog from scratch!
By the 3rd month, we had 30,000+ monthly visitors and had made our first course!
Currently… we are making over $50,000/month with this blog alone!
Course Curriculum
Introduction and Course Objectives
Start

Support Group, Checklists, and Other Resources

Start

Our Blogging Story (11:00)

Start

Course Strategy, Objectives, and Expectations

Start

How to Navigate This Course (7:23)

Start

Honest Blogger Sh*t (39:07)
Blogging Mindset
Start

The Ugly Truths of Blogging (12:40)

Start

Poop to Profits (10:37)

Start

Become the Expert (7:07)

Start

Building a Brand (9:01)

Start

Being a Business Owner (5:29)

Start

Being a Problem Solver (4:33)

Start

Success Leaves Clues (12:59)
Getting Started: Hosting, WordPress, and Initial Setup
Start

Hosting Account and WordPress Setup (14:36)

Start

Write Your First Post, Launch, and Set Up Domain Email (10:11)

Start

WordPress Tutorials and General Settings (40:11)

Start

Installing Plugins + Basic Recommendations

Start

Additional WordPress Setup (SSL, Security, and More)