Description
Gray Cook & Brett Jones – Certified Kettlebell – Functional Movement Specialist – H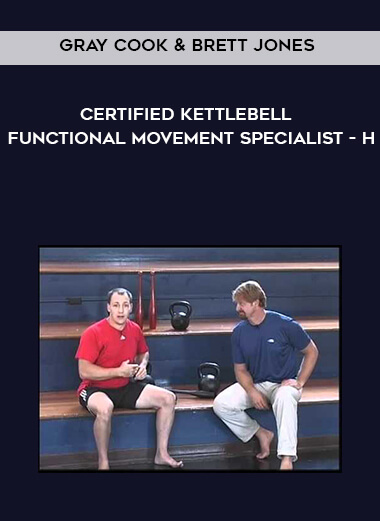 Salepage : Preview
Arichive : Preview
The World's Two Most Dynamic Systems for Athletic Performance Enhancement— FMS and RKC— Have Joined Forces to Create the Ultimate Program for Physical Excellence and Durability
Certified Kettlebell-Functional Movement Specialist (CK-FMS) Workshop
St. Paul, MN, United States
May 12 – 15, 2011
An Advanced Certification Training with: Gray Cook, RKC Brett Jones, Master RKC
Discover the virtually FOOLPROOF "Movement-GPS System" that lets you figure out with unerring accuracy what's really wrong with your client—then know how to "fix them up" with kettlebells and set them on a path to greater personal glory… Read More
Workshop Code # wfms005
Register on-line or call 1-800-899-5111 for credit card orders.
"The Functional Movement Screen is the foundation of our program. Everything we do builds off of it. We couldn't imagine not using this program."
—Jon Torine, Head Strength Coach, Indianapolis Colts
"FMS is an outstanding system for making an athlete resilient, a perfect complement for the RKC."
—Pavel Tsatsouline, RKC Chief Instructor
Watch most recent Certified Kettlebell – Functional Movement Specialist (CK-FMS) Workshop video
See photographs from all previous CK-FMS workshops
Read participant praise from all previous CK-FMS workshops
Discover the virtually FOOLPROOF "Movement-GPS System" that lets you figure out with unerring accuracy what's really wrong with your client—then know how to "fix them up" with kettlebells and set them on a path to greater personal glory…
The first section of the CK-FMS will teach the entire fundamentals of Functional Movement Screen system, combining lecture with extensive hands-on lab work.
This program is a product of years of innovation and current research. The philosophy starts with a system that monitors fundamental movement. Armed with this crucial knowledge, you can successfully develop corrective exercise programs based on individual movement patterns. FMS is equally effective in fitness and sports conditioning because it targets the "weak link in movement".
Because:
"Working on any other part of the chain will not change the strength of the chain." You're only going to be a good as your weakest link. If you insist on using band-aids and duct tape, don't be surprised when things start to rip and tear!
Or, to put it another way, what use is a stronger, more powerful engine, if your wheel is going to fly off at 80 mph?
Specifically, the Functional Movement Screen is a ranking and grading system scientifically created to document movement patterns that are key to normal function.
By screening these patterns, you can successfully and quickly identify functional limitations and asymmetries. Basic movement pattern limitations can reduce the effects of functional training, physical conditioning, and distort proprioception (body awareness).
At the heart of the system is the Functional Movement Screen Score, which helps you target the real problem for any individual and track their progress with real precision. The scoring system is directly linked to the most beneficial corrective exercises to restore mechanically sound movement patterns.
When you feel ready to take action on this,
to take your personal training and coaching business to new levels of success CLICK HERE NOW
Could you be flying blind, making these mistakes without even knowing it —and often be harming your clients more than helping them?
After this part of your certification training you can confidently:
Identify physical imbalances or weaknesses and strengthen them with simple corrective exercises
Teach the difference between movement quality and movement quantity—so your clients themselves understand how they can achieve better results with less apparent effort
Identify current injury trends and stats as they relate to the prevention of non
contact injuries
Understand how "primitive" movement can hold the keys to unlocking your physical restrictions
Use hands on/passive stretching — to help you become more comfortable touching clients and start to understand the CNS communication between yourself and the client.
Eliminate poor movement and quickly, effectively, and efficiently replace it with good movement
Establish a personal benchmark for your own movement patterns with a clear direction and path to help you be more mobile.
How Valuable and Successful Do You Really
Want to Be as a Coach and Trainer?
The Key 12 Advantages You'll Gain When You Master The
Functional Movement Screen Fundamentals:
Mastery Advantage # 1: Instantly cut through the clutter—and zero in with uncanny accuracy on what really works to enhance your client's movement.
Mastery Advantage # 2: End the wild guessing and vagueness about your client's progress—with a scientific, functional baseline to confidently mark their improvements.
Mastery Advantage # 3: Own a "Done-For-You", dummy-proof screen that gives you reliable, specific and above all reproducible specific markers for your client's movement problems.
Mastery Advantage # 4: Quickly and reliably improve your client's functional fitness and athletic performance—and earn their undying gratitude.
Mastery Advantage # 5: Be a long-term hero for an ever-increasing group of devoted clients—as you significantly reduce their potential for training and sports injuries.
Mastery Advantage # 6: Possess a simple, yet amazingly effective grading system to assess movement patterns—and immediately spot the lurking problems.
Mastery Advantage # 7: Confidently assess and easily enhance physical performance for the widest range of client—from the athletic to the average fitness buff.
Mastery Advantage # 8: Scientifically identify your client's physical imbalances, limitations, and weaknesses—then be able to offer a rack of trench-tested solutions to those vulnerabilities.
Mastery Advantage # 9: Enhance your client's fundamental movement patterns with simple corrective exercises—an immediate "take-home" that will have some of your clients wonder if you practice magic on the side.
Mastery Advantage # 10: Proudly toss out the "one-size-fits-all" nonsense that often masquerades as training—now that you can scientifically individualize your client's programs for specific results.
Mastery Advantage # 11: Understand how to identify potential cause and effect relationships of micro-trauma as well as chronic injuries in relation to movement asymmetries and weakness—this one skill will set you apart from 98% of all trainers out there!
Mastery Advantage # 12: Understand how to give your client that all-important "Ah-Hah!" moment—that creates utter belief in your ability to identify and fix their weaknesses.
When you feel ready to take action on this,
to take your personal training and coaching business to new levels of success CLICK HERE NOW
Armed with the FMS Fundamentals, You'll Then Discover How to Merge FMS with the Immense Power of the RKC System:
How to properly interpret the results of the FMS and address the "weakest links" first—to maximum immediate impact with your clients
How to address the lowest scores and asymmetries to "clear" people for Kettlebell training—helping your clients avoid unnecessary injuries and making you look darn good in the process.
How to employ the Red/Yellow/Green checklist—so you can be absolutely sure what kettlebell and weight lifting drills are okay and which ones to absolutely avoid when you have spotted an asymmetry.
How to employ the kettlebell as a preferred tool in the Corrective "toolbox"—for far faster, more effective results.
How to optimize movement patterns with kettlebells, once the FMS minimum is reached.
How to integrate Screening, Assessment, and Client Management—the complete package of when to do what, and why.
How to implement Static and Dynamic Assessment and Corrections for the Upper and Lower Body.
How to implement the FMS System to continually reevaluate and progress your clients.
Benefit from a highly creative lab environment which generates constant brainstorming and a stream of insights into how to improve the quality of both your own and clients' movement.