Description
Duane and DaBen – Evolving into Your Luminous Body: Part 2 Building Your Luminous Body
Salepage_https://www.orindaben.com/catalog/prodno/LB962/
Archive: https://archive.fo/wip/gvfpl
Travel into Realms of Light
Receive DaBen's Individual Transmissions and
Gifts of Light from Luminous Beings for
Building Your Luminous Body
A Duane/DaBen Graduate Light Body Course
Read comments from participants about their experiences with DaBen's Evolving Into Your Luminous Body courses.
---
In this course learn more about freeing yourself from limiting thoughts and beliefs.
As you build your luminous body you will have more ability to notice the details and energy of thoughts, also called "thought forms," and to notice the higher order thought forms, such as those that contain divine ideas that will unfold as ever-increasing love, joy, peace, and positive circumstances. You will learn how to recognize and release thoughts and beliefs from society so that you can look out at the world and your circumstances with greater clarity, wisdom, and understanding. You will be able to experience life in the light of the "real" and to let go of the misconceptions and fogs of the unreal that cloud humanity's thinking.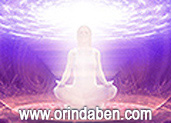 You will be able to let go of being influenced by lesser thought forms and beliefs held by much of humanity such as those that bring pain, suffering, lack, and limitation. You will be freer than ever of the confusion caused by the ever-present lesser thoughts that you live in and around. You will become aware in greater detail what thoughts and assumptions you take for granted, giving you the ability to shift them. You begin to let that be a way of being, building the luminous body so that it encompasses your entire presence and being on the earth plane, so that energy and clarity is always available to you at any level, including at a personality level.
As you build your luminous body it becomes easier to stay connected to a higher, clearer light and to have the thought forms that support you in staying connected to the higher energies. Through these experiences you can move into a deeper sense of peace, beyond the limitations of language and words to describe, that is a great reward in itself.
---
The Building Your Luminous Body Course includes the complete course journeys of 22 DaBen meditations, numerous Duane talks, and written transcripts of both in a PDF booklet. Also included are an additional 7 DaBen meditations, one for each of the prior series (Exploring Infinite Being, LB951-LB956) to assist you in having even more profound experiences of the skills taught in this Building Your Luminous Body course.  (LB962) Download format.
Note: This is part of a series called Evolving Into Your Luminous Body. You do not have to take other courses in this series to participate in the Building Your Luminous Body courses.